An authentic sailing cruise, close to tradition and history
The 'TRECHANTIRI '
Born at the foot of the famous Mount Athos, the hands of the monks of Agio Oros , she comes from a long line of traditional sailing boats specially designed for the Aegean : the trechantiri .
Completely restored in 2012-2013 , and adapted to cruising, its width offers two comfortable double cabins en-suite, and a beautiful cabin with four beds perfect for children as well , lounge and a particularly nice kitchen, besides the captain's quarters , completely separated from the passenger space for discretion and tranquility . It also has a large outdoor area and a fantastic sun- deck.
Bertrand, captain and owner , skipper at PASSION SAILING CRUISES RHODES in the 2000's , has sought to fulfill its character , highlighting the luxury of elegant simplicity and the boat after its restoration and installation of its spectacular cutter rig , authorities received the label " traditional boat " .
Private cruises : The boat is rent as a whole with captain and can accommodate up to 8 passengers.
Small Cyclades , Amorgos , Folegandros , Santorini , Paros, Naxos , Patmos, Kos or Rhodes, and many others ...Your choice.
A typical day : awakening, breakfast on board , departure, navigation , mooring , swimming, lunch on board, nap , sunbathing , resumption of journey, stop at night or in port to allow you to taste the specialties of the local taverns , or in a small cove.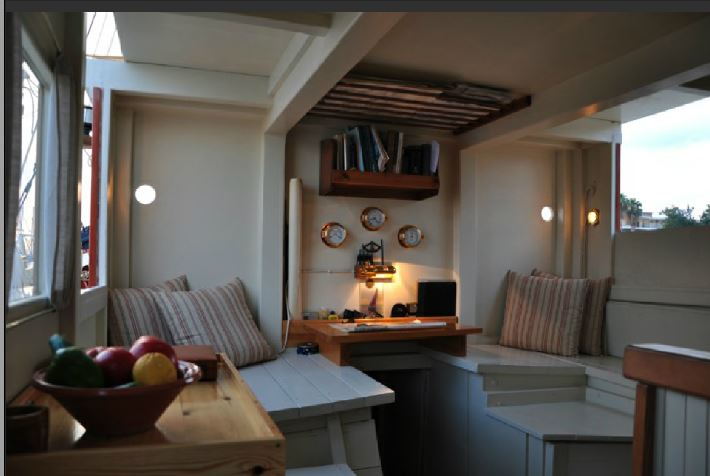 201

5 Price list


Low season:
March, April,
October, November
-590.00
euros per day

the whole crewedboat


Medium season:
May, June,
September
-790.00
euros per day
High season:
July, August
-990.00
euros per day
"Honeymoon"
Special Offer
Low season:
March, April,
October, November
-390.00
euros per day
Medium season:
May, June,
September
-590.00
euros per day

I
ncluded:
Boat rental
with
captain
/
cook,
insurance
of the ship,
shipping costs
and
taxes,
local,
bed linen
and towels,
breakfast
and lunch,
the
use of
220v
power,
24v,
12v,
the use
of the
motorized tender
.
Not included:
bar,
evening meal,
marina
fees,
diesel


<![if !vml]> <![endif]><![if !vml]><![endif]>

<![if !vml]><![endif]>